I've switched up my beauty routine a lot since I last posted a full rundown – here's what I'm using going into summer.
1 Aesop Resurrection Aromatique Hand Balm
Aesop's products smell impossibly fresh like rinds and mountain fauna. This balm is more velvety than greasy and I find myself using it as a rich body lotion as well when I'm traveling and needing to make everything around me multi-purpose.
2 Earth Tu Face Sea Buckthorn and Geranium Serum
I discovered this food-grade, completely organic line while wandering around in Salon Benjamin on Melrose. I use a tiny amount sometimes in the morning and get more generous with it at nighttime. I love the mix of oils going on here and sea buckthorn is an all around wonder ingredient.
3 Kate Somerville ExfoliKate Intensive Exfoliating Treatment
I'm obsessed as ever with exfoliation in all forms and this product is in it's own class. It combines chemical and topical exfoliation for a very polished result.
4 Koh Gen Do Brightening Moisture Mask
Masks are necessary in life but sometimes can feel drying to me. I've been a fan of Koh Gen Do's foundation forever but recently started to branch out into their other offerings. This one is refreshing and luxurious and yup, not drying.
5 La Roche Posay Nutritic Intense Riche
I love having a super rich nourishing moisturizer to use at night – this was a wild card purchase at a Parisian pharmacy in January and the scantily researched decision paid off. Plus, heavy glass jar presentation. Very important.
Sunscreen isn't even a question. There's no excuse to not be swimming in the stuff. This gets points for calling itself a "sun lotion" which sounds so effortless and non-scary. The consistency is thin enough to make it easy to apply evenly and it has a fresh herbal smell that makes it so much more appealing to reach for in the mornings.
7 Caudalie Vinoperfect Radiance Serum
Caudalie is a favorite of mine and I use their Beauty Elixir so often in the summer. This serum applies like a dream and is the first thing I put on my skin after cleansing. The molecule size in serums is smaller than in moisturizers so the ingredients can be absorbed deeper. Cool huh. Both still matter in different ways though.
8 O.R.G. Skincare Mineral Peel Face (2 oz)
Probably the most life changing product I'm listing here and another Salon Benjamin discovery. I've seen these types of products before in Japan that start peeling skin upon application. You have to try it to understand/believe. Your skin will be impossibly smooth.
Staple Diptyque.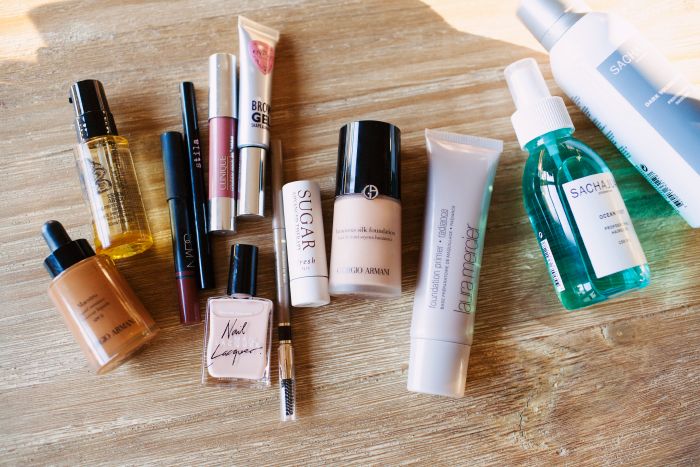 And now onto my beauty routine. Which does apparently exist beyond eyeliner and highlighter.
1 Giorgio Armani Maestro Liquid Summer Bronzer
The tiniest bit of this adds a summery but not fake glow. TINIEST. This bottle will likely last me a century.
2 Shu Uemura Essence Absolue Nourishing Oil 5 oz
I've been using this oil for years – it smells so good and is actually worth the price because it, also, lasts forever. My go-to for post shower ends application.
3 NARS Satin Lip Pencil, Het Loo
This pencil is another multipurpose situation. I use it as a cream blush, undereye color, and mixed with balm for a hint of lip color. I actually love this product and use Biscayne Park regularly as well.
4 stila Stay All Day Waterproof Liquid Eye Liner, Intense Black
This liner is pretty unbeatable. Idiotproof felt-tip application, inky black color, and no weird raised feeling. This is like, IT.
5 Clinique Chubby Stick in Curviest Caramel
A subtle pinkish nude color that you can apply sans mirror.
6 American Apparel Nail Polish in Dance
I could do a whole post on perfectly boring nude nail polish. Maybe I should. This is one of my favorites at the moment and more available than my other medium tone go-to Miss Frou Frou in Flesh. Which seems like it's only available at their salon in Paddington, Sydney. Must use that one bottle wisely.
Final but important step in getting ready is always a swipe of this gel. Makes more of a difference than you'd think.
8 Milani Easy Brow Automatic Pencil, Dark Brown 02 1 ea
Such a good deal and everything I want from a brow pencil. I've been using this forEVER.
9 Fresh Sugar Advanced Therapy Lip Treatment Translucent 0.15 oz
Another longtime staple, this balm feels rich and moisturizing versus waxy. Most of the time this is all I have on my lips.
10 Giorgio Armani Luminous Silk Foundation
So many makeup artists swear by it because of the dewy, not too heavy coverage this gives. I took a break from it for a while but now I'm back.
11 Laura Mercier Foundation Primer – Radiance 1.7 oz
I'm never seriously committed to the idea of a primer but I'm experimenting with this at the moment. It definitely has a pretty sheen to it.
I've had hairstylists use this on me so many times that I finally became curious enough to get my own bottle. I love that the alcohol-free formula provides beachy texture without making things too…crunchy.
13 Sachajuan Dark Volume Powder
Another A+ product from the Swedish line – use on freshly washed hair for volume or as a dry shampoo if you're second day-ing it.