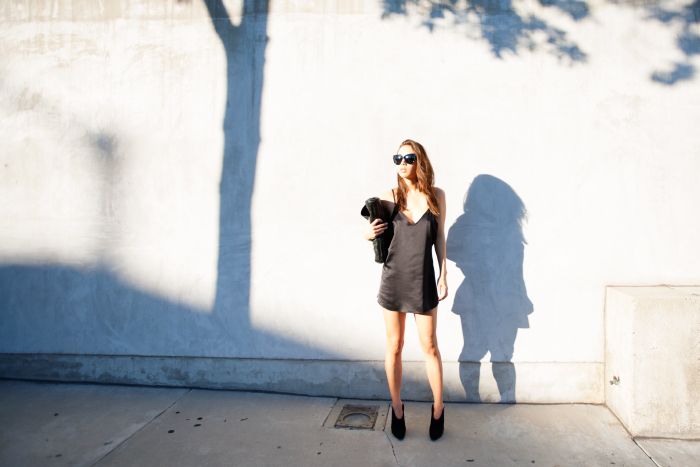 (The Zillah dress with Giuseppe Zanotti Olinda boots)

Having my own line was something I'd always dreamed of, but I would never have said it was my plan. At the beginning of this year a few different factors aligned to where it actually became more and more of a serious discussion and I decided to stop wondering "but who do I think I am" and just commit to it. Cause I could have easily thought the same thing when starting fashiontoast and my entire life would have been different.
I've been so lucky with the opportunities that have come my way and the worlds that this blog has opened up to me have trained my eye immensely. The things I look out for when seeing clothes for the first time are so crazily specific now that conceptualizing my own line actually felt really natural once I got started. I just wanted to tackle what I knew – what I wish existed, what I want to wear right now. An answer for every type of clothing item I live in until I've created the perfect wardrobe. Simple but special pieces that make sense morning, day, night, and even in bed, that blur the line between casual and sexy and scruffy. That feel ultra California but are possible to wear a thousand ways. And in fabrics and materials that you don't want to stop touching, that you want to reach for again and again just because they're the most cloud particle-like thing you own. I chose every silk weight, every strap width, every distance between buttons, every everything and wear-tested pieces for weeks so I knew exactly what to tweak to make them perfect.
The line has the luxury of being utterly uncompromised – every detail down to a microscopic level is my exact vision. ARE YOU AM I is rendered in fluid silk, sheer textured linen, soft supple lambskin. Silk pieces are lined so they feel substantial, backs are lowered, hardware is rose gold and gunmetal, deep Vs don't hold back, straps are the thinnest rolled silk – the pieces are as luxurious as possible without being totally insane.
It feels really surreal to finally see the store open online. Thank you so much for being a part of this with me!