Not really an excuse but something like that – with all the traveling I do, making an effort to get my place looking like something with any kind of purposeful design to it wasn't really happening. Which was alright for a little while but it seems the longer you've been moved in somewhere, the more glaring things like not having a coffee table become. What is that? When I started talking to Homepolish and Orlando Soria about redecorating my dining room and bedroom, I was trusting and excited cause they got me but also wanted to explore ideas that would basically never have occurred to me. I love the end result, somewhere between stark and beachy and fort-like. With plant life even! Now I love coming back and throwing my suitcases down with a resounding crash and scrambling onto some fluff. The rooms are different enough but still cohesive and the shots of greens and grays feel calm and so LA actually. Thank you to All Modern for bringing everything together. And Tessa Neustadt for coming over and taking photos.
This beautiful St. Frank Textile Biddew Noir piece adds dimension to the dining room. The textile has these raw edges that look freaking cool against the simple Lucite frame. We kept the table and bench that you're probably familiar with, and brought in these just matchy enough Safavieh Bentley chairs. I love the natural finish and latticed seats. The slate "placemats" I had already – a random find at Crate & Barrel. Really sure they're supposed to used to display cheese at semi-large gatherings but whatever. The matte gold candlesticks are from Calvin Klein Home.
I've had this cowhide rug for years, but I love it layered over the larger woven one to break up all the neutrality. The plants Orlando sourced from Mickey Hargitay plants, which I feel confident in declaring the best place to source those from in Hollywood. The light fixture is by Varaluz.
Just posing in random directions. My favorite Weitzmans yet.
I feel so official with my own barcart but also not very because I don't have the alcohol reserve to validate it? I get my mules at the place around the corner. So right now it's just a cool golden mobile bookcase.
Tessa knows her natural light. Now we're back in the bedroom. Shoes? Long since casually discarded.
You guys saw shots of this setup in my bedroom post but this is still nice. Nice little collaboration that marble and brushed steel made happen with these lamps.
This mirror is made out of railroad ties. Those are so handy. I got it last summer from Mix Furniture on La Brea, which has a boring name but is really fun to peruse. Everything there is huge so go there if you like feeling like an ant or fairy. The rug I got on my first trip to Sydney. Game of Thrones approximation credibility high.
Some Smythson and Kate Moss for good measure.
Kumo is perfect anywhere, which gives him the air of always choosing the best seat. He also always chooses the best seat.
And some bonus shots by Chris. I consume a lot of Health-ade. A lot. I'm always re-ranking the flavors in my head. Right now it's all about the Cayenne Cleanse.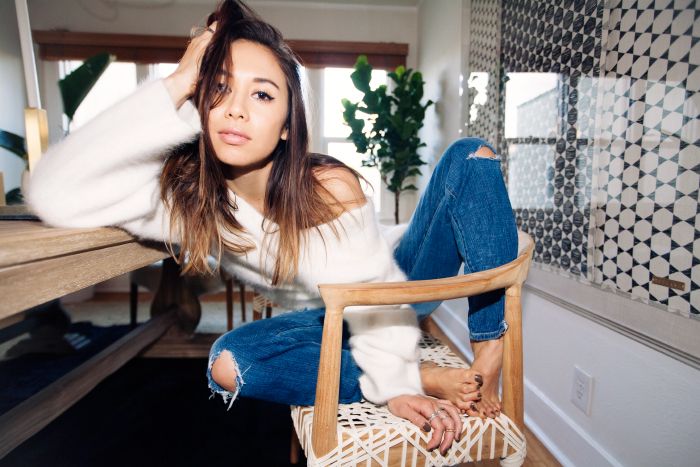 That's how comfortable this bad boy is.
Thank you so much to Homepolish for your cool brains and all the laughter and working around my slightly wtf schedule! Noa, you had me at Hawaii-born and Stanford-bred and also you were awesome to work with. FYI they take on projects in most big cities in the US and are really good at finding ways to make things happen on all kinds of budgets. I hope you enjoyed our collaboration!