I wanted to post the rest of my photos from FNO Japan before they became that much more overdue. This day was massive sensory overload, there was such an outpouring of excitement and support for all the brands involved from fashion insiders like Nicola Formichetti and Emmanuelle Alt to people that were there to shop and experience a Fashion's Night Out for the first time. I have to say that I don't think I was prepared for the scale of it all..every single second was occupied, whether it was interacting with my super sweet Japanese fans or trying to make the next appearance on time. I wish I could have taken more photos myself but my friend Fenton Bailey helped me out documenting throughout for the 12 hours of festivities. Here goes..
At the Costume National Aoyama Complex, a beautiful sprawling hyper-modern store/living space/bar. A little like stepping into the future. Bryan and I tried on terrifyingly beautiful white coats and fell in love with most of the accessory wall.
Next stop: Rag & Bone.
I met the designers Marcus Wainwright and David Neville (for the first time! I died a little) – really cool dudes, obviously. David had a healthy level of confusion and curiosity about how blogging works, which I found entertaining. I offered what explanation I could. It always sounds overly simple. But then again the concept of it all really is if you think about it.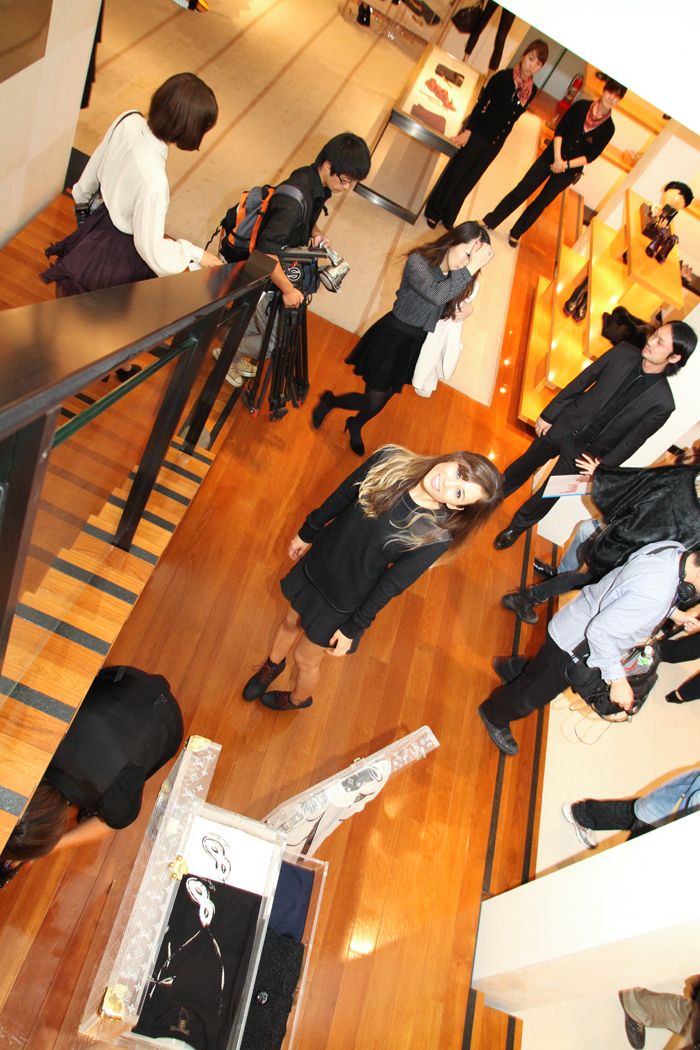 Stopping by the Louis Vuitton store in time to see Anna Wintour take part in some ribbon cutting with Ai Tominaga. Both she and her daughter Bee looked amazing, but you probably already knew that.
The crowds on the streets were getting massive at this point. Stopped to take some photos before moving on to the Hermes pop-up store..
I met up with Chiara and tried on some pieces. The entire shop was made to pretty much resemble a giant colorful scarf, which is a nice thing to feel like you're stepping into.
I got to meet fellow halfie Nicola Formichetti at Emporio Armani – he is so nice, completely unassuming. And has a pretty great smirk, come to think of it. Lucky me – I got to catch up with him again at Le Baron later on that night.
The Michael Kors store was just as packed as you would think it would be with Michael himself holding court and signing bags. He was as gracious and golden hued as ever. Love this man.
At the Stella McCartney store..a reminder that I'm still after her 'Falabella' iPad case and most blazers she designs.
Last stop at Roberto Cavalli before heading to the US Ambassador's house for the evening for a performance by Jennifer Hudson.
The very surreal invitation..
And posing for the last cameras of the night, wearing Marc Jacobs and a Fendi satin bag. What an experience! Thank you so much Vogue for including me in this event and to everyone who made it such a success. I'm thinking there's no way that this isn't going to become an annual event so..see you guys there next year!